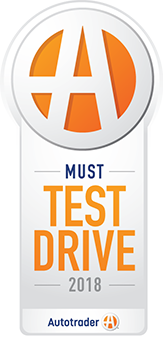 The Autotrader Must Test Drive Awards is intended to benefit a broad set of shoppers by highlighting a diverse group of 12 vehicles that simply must be seen and experienced to believe. Logging thousands of miles, the Autotrader editorial experts chose the winners of the annual Must Test Drive Awards based on a wide-ranging set of criteria, including interior comfort and materials, available technology features and ride quality, and each vehicle was agreed upon unanimously by the entire editorial team. To be considered for a Must Test Drive Award, a vehicle must be of the current or next model-year and be available to purchase at the time of the awards announcement. It must have a base price under $75,000, offering a significant value for the asking price, and must score a 3.5 or higher on Autotrader's five-point scale.
With these factors in mind, the 2018 winners all have something special that separates them from the competition. The variety of award-winning models below are weighted equally and are unranked, as Autotrader's experts understand the needs of each shopper are unique.
2018 Volvo XC60
The new Volvo XC60 delivers Volvo's impressive interior and technology to a completely new segment, scaling down the same stunning cabin from the popular XC90 into a more affordable package. Indeed, the XC60 is a huge upgrade from the outgoing model without a significant price jump, as it starts from around $42,000 with shipping.