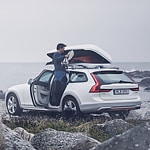 Performance features give even more value to the Volvo V90 than just its iconic and refreshing Scandinavian design. With regard to performance, the V90 can achieve up to 33 miles per gallon and 316 horsepower with its various powertrain options.
Additionally, the Volvo V90 provides you with excellent handling and power for a well-balanced ride. What, though, are your engine options when you decide to purchase a Volvo V90? Edmond V90 shoppers can have their vehicles powered by a T5 2.0-liter turbocharged engine or by a T6 2.0-liter supercharged engine. With the T5, you can expect to get 250 horsepower out of it. With the T6, however, you can expect 316 horsepower.
The V90's eight-speed transmission is automatic, and it pairs well with both the standard front-wheel drive and the optional all-wheel drive. Whether you seek sufficient acceleration or power, Volvo Cars Oklahoma City is confident that you can find it in the Volvo V90.