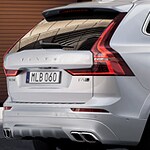 Why is the Volvo XC60 R-Design such a popular SUV? That question is answered the moment you get behind the wheel. The performance level is outstanding, and it has a luxurious appeal that's undeniable. There is also an incredible list of tech and safety features.
You'll appreciate the sheer comfort that's provided by the sculpted R-Design seats in the XC60 R-Design trim. They are contoured and intended to maximize driver comfort.
Advanced road calculation is one of the many benefits associated with the Sensus navigation system in the Volvo XC60 R-Design. There's a voice guidance component that enables you to reach your destination safely and efficiently.